Focus Plotting Your Lighting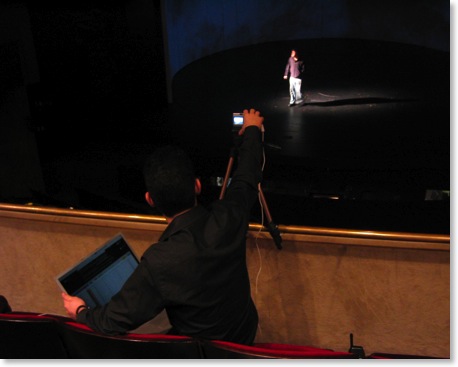 Digital photography has revolutionised the process of documenting show lighting. With film, taking a picture of every focus was an unnafordable, impractical dream. Today, it is a reality.
Of course, it's still a lot of photographs - but FocusTrack is here to help. Focus plotting entire musicals in just a few hours is common, without any need to manually annotate or sketch focuses.
If you use a Mac, FocusTrack (for the moving lights) and RigTrack (for the conventional lights) can talk to your console, turning a light on in the right place so you can take a picture, then turning it off and turning the next one on for you. You can just sit in the circle with a laptop and a camera and work through your show quickly and efficiently, no more lists and radios to call the console operator to bring up channels. FocusTrack will warn you when you need to change scenery. FocusTrack can even trigger the camera for you. The process is fast: 1500 lamp focuses in just a few hours on many big shows.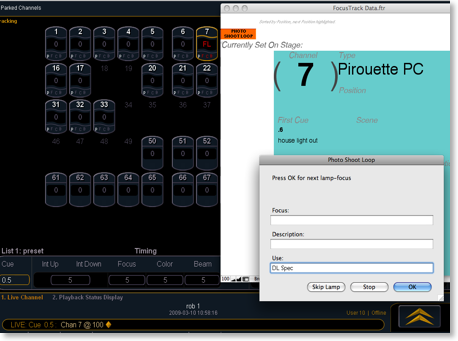 When you're done, import the pictures from your camera to your laptop. FocusTrack knows the order you were working in, so tell it the name of the first image file and it pulls the right picture into the right place.
(If you REALLY want, you can automate the whole process - FocusTrack can do the whole thing on its own. We always find it nice to have a person standing in the light in each picture, and the slowest and most unpredictable part is usually waiting for them to get to the right place!)
You can add other photographs for each focus - perhaps a picture of all of the units in a wash, or a 'lamp's point of view' picture, particularly useful for cross-light.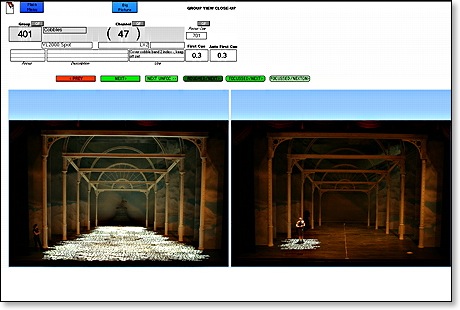 Plus FocusTrack's Cue List provides a repository for cue photos - and those photos will show up in FocusTrack, too. Ask to see focuses by cue and you'll see the light on its own, possibly its use as part of a wash and then the cue as a whole - the building blocks and the end result.