... Then Import Into FocusTrack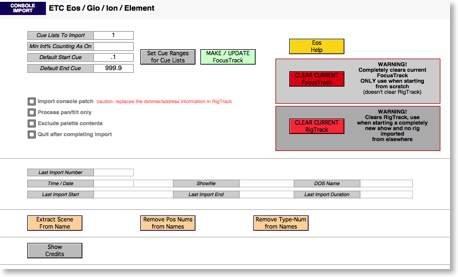 Tell FocusTrack which range of cues you care about. Tell it which level you use as a preheat level (so lights don't register as on until they really come on). Then set it to work...
FocusTrack works through your showfile seeing where and when things get used. It does the work so you don't have to!

For focuses, it cares about positions that are actually seen on stage - ie. positions where the light comes on, since it's those positions you'll need to document for a complete record of the show's lighting.
FocusTrack divides the import between it's three modules: FocusTrack itself, which manages the focuses of moving lights, RigTrack, which holds information about the entire lighting rig, and Cue List, which holds the cue list.