FocusTrack 2.000 - Available Now!
New version, with support for Eos and grandMA, available now
27th May 2009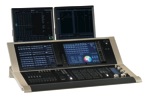 Previewed at
USITT
in March, and tested on a number of shows since, the new FocusTrack 2.000 is now (finally!) available - adding compatibility with ETC Eos and MA grandMA consoles along with countless other refinements and improvements.
Designed to simplify the task of comprehensively documenting production lighting, whether to maintain it over a long run, re-create it on tour, re-mount it in new productions, bring the show back into a rep or create a portfolio, FocusTrack has been put to good use on countless shows around the world in the more than three years since its first introduction, including the Tony Award winning
Billy Elliot
and Drama Desk winning
Equus
in New York.
The key design principle of FocusTrack has always been to reduce the amount of manual data handling and re-keying that lighting staff have to do during the course of mounting and then documenting a show. FocusTrack 2.000 continues this: it can be used to manually track the lighting, or the software can import a show file from ETC's Eos, the MA grandMA and the Strand 300- and 500- consoles, generating comprehensive paperwork - including a list of moving light focus positions actually used in the show, details of scrollers and gobos actually used in the show, fixture tracksheets, full details of the lights in the rig (including patch information and whether they are actually used in the show) in FocusTrack's RigTrack module, and a detailed cue list.
Other information can be entered manually, or merged in from other sources including Lightwright, VectorWorks Spotlight or designer's cuesheets in Excel or other formats. For those who want to continue to use their current software, FocusTrack can also help keep other data files up to date, playing 'spot the difference' between Lightwright data and the console patch to ensure Lightwright stays in sync as a rig evolves.
To complete the documentation of a show, FocusTrack (when running on a Mac) can control the lighting console to allow the automation of turning on and photographing moving and conventional lights before importing the resulting pictures into the final show database. As with show import, FocusTrack can now control Eos and grandMA (via their Eos Client and onPC software running in Parallels or Fusion) in addition to Strand consoles.
FocusTrack 2.000 also incorporates countless other interface improvements and new features based on three years of user feedback, including an optional simplified main control page, a new DimTrack module for managing complex dimmer installations, a 'speak my focus' mode for when a programmer wants to keep looking at the stage, and a new iPhone cue sheet export mode so a designer can have keep their cue sheet with them while prowling the theatre during previews.
FocusTrack 2.000 comes in one version that can be switched between the three console types. It is available now from the FocusTrack website,
here
, and can be run in Demo mode for fourteen days allowing anyone interested to try it for themselves. The website even includes a small
demo show
allowing quick experimentation with the software's features, as well as full details of how FocusTrack can help those creating and documenting shows.
Despite the many new features, the price of FocusTrack remains unchanged, with both full and student licences available. Licenses can be purchased through the website; existing licences will continue to work with the new version.
Further information about the new features offered in FocusTrack 2.000 can be found
here
.