FocusTrack On Broadway, On The Road
Show lighting documentation system adopted by two high-profile shows
18th November 2009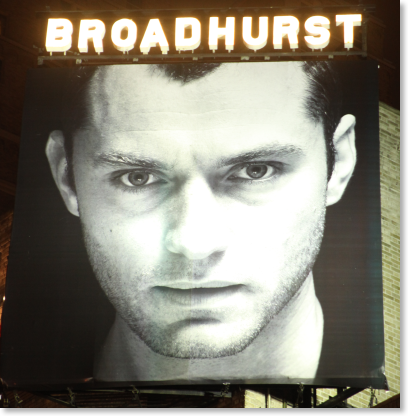 Two new high-profile theatre productions have adopted FocusTrack, the production lighting documentation system, to help record their lighting before in one case moving across the Atlantic, and in the other moving at high speed around America.
The acclaimed Donmar Warehouse production of
Hamlet
, directed by Michael Grandage and starring Jude Law, used FocusTrack to document Neil Austin's lighting design during the show's sold-out run at London's Wyndham's Theatre. This precise record of the lighting was then used as the basis of re-creating the show at New York's Broadhurst Theatre - a regular host of FocusTrack documented shows, having also accommodated both
Les Miserables
and
Equus
in recent years.
FocusTrack's record of the show made it easy to re-create the show lighting while accommodating changes in the rig made both to allow the lighting to become more precisely focused, and because of the different layout of the new theatre. Once the New York lighting was complete, associate Pamela Kupper and programmer Rob Halliday used FocusTrack to create precise documentation of the New York show lighting, allowing production electrician Jon Lawson and show electrician Thomas Lawrey to maintain it over the show's successful Broadway run.
Elsewhere in America, FocusTrack has been adopted to document the lighting for the new US tour of Rodgers & Hammerstein's
South Pacific
, based on the successful production at New York's Lincoln Centre and once again directed by Bartlett Sher with lighting by Donald Holder, who won the 20008 Tony Award for Best Lighting of a Musical for the production. Produced by NETworks Presentations, the tour opened in San Francisco and is now moving quickly across America, often with stops of just a week.
The touring crew of Thomas W Ford, Patrick Johnston and Dirk Van Pernis together with associate lighting designer Karen Spahn used FocusTrack to automatically generate lists of which lights were used in which focuses and in which cues in the show from their ETC Eos showfile, and then to photographically document the show lighting with FocusTrack driving the console to turn on the right light in the right place for each picture. FocusTrack now offers an easy to use, precise reference for each focus in each touring stop.
With their high-speed yet high-profile tours, NETworks are long-standing converts to the advantages of FocusTrack for precise, easily accessible show documentation, having previously used the system on tours of
My Fair Lady
and
The Wizard of Oz
.
Further information about
Hamlet
can be found
here
; further information about the
South Pacific
tour can be found
here
.
Offering support for show import from ETC Eos, MA grandMA and Strand 500-series consoles - and now wit support for multiple cuelist import on Eos and grandMA - FocusTrack is in use on productions worldwide. Further information about FocusTrack and SpotTrack, its companion software for managing follow-spot cuesheets, can be obtained elsewhere on this website, or by visiting booth 820 or attending the Art of Programming session at this year's
LDI Show
in Orlando, November 19-22nd.