SpotTrack In Action
Software tool for follow spot callers now in use on high-profile shows
30th March 2010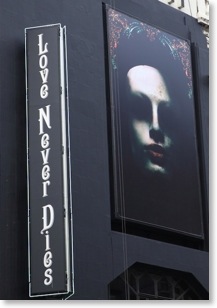 SpotTrack, the new software tool for making and managing followspot cue sheets, has found favour with a number of high profile shows since its launch last autumn.
In London,
Love Never Dies
, the long-awaited sequel to Andrew Lloyd Webber's international hit musical
The Phantom of the Opera
, is using SpotTrack to manage its followspot cue sheets. The show is lit by Paule Constable, with the spots overseen by her associate lighting designer Beky Stoddart. Stoddart is also using SpotTrack on the new production of
Oliver!
,
also lit by Paule Constable, at London's Theatre Royal Drury Lane, and associate lighting designer Nick Simmons is using it to manage the followspots on the new UK tour of
Les MisÚrables
, again designed by the busy Constable.
The new West End production of
Legally Blonde
, lit by Kenneth Posner and Paul Miller, is also using SpotTrack, the spots on the show overseen by Pete Bragg.
In the US, the first show to use SpotTrack is the hit musical
Billy Elliot
, for its first touring production setting up now in Chicago. Lighting designer Rick Fisher is re-creating his Tony-award winning work on the show, with Dan Walker serving as associate lighting designer and Kristina Kloss calling the followspots.
SpotTrack has continued to evolve through all of these shows based on feedback and feature requests from those using it. New features added since launch include the ability to add fade times for cues, notes seen only by the spot caller, page numbers to tie spot cues to script pages, and functions for quickly copying information from spot to spot when multiple spots are doing the same thing in a cue. The current version of SpotTrack -1.18 – is available for
download
now, and will run in demo mode allowing it to be played with prior to purchase.
Purchasing SpotTrack for UKú45 unlocks its full functionality, including printing. More importantly, your purchase supports one of two fine entertainment industry charities –
Light Relief
and the ESTA Foundation's
Behind the Scenes
, with 15% of the purchase price being donated to the charity of the purchaser's choice. Light Relief is slightly ahead at the moment…
Created by the people behind FocusTrack, the increasingly popular show lighting documentation software, SpotTrack is available now, running on Mac or PC. Further information is available
here
.