How do I get all of the focus information into FocusTrack?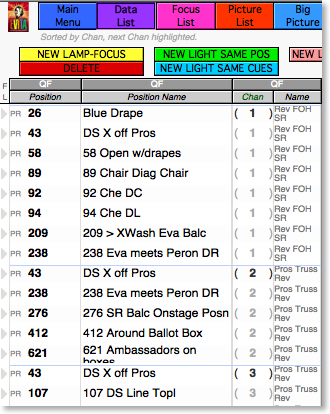 Ideally, you'll be using a Strand 300/500-series, ETC Eos/Ion or MA grandMA or grandMA2 console: if you are, FocusTrack can do much of this work for you automatically. It can take the showfile data from the console and analyse it to figure out which lights are used in which positions in which cues in the show.
It'll also tell you which colours and gobos are actually used in moving lights and scrollers, and which lights never actually come on... making it easier than ever before to figure out how to rationalise your rig, cutting unused lights or simplifying scrollers or gobo loads for touring.
Once you have this information, you can add other information as you like - grid focuses, written descriptions, photographs and more.
If you keep importing the showfile, FocusTrack will merge in new data, showing you which focuses are new, which are no longer used, and which have changed since the last import. It will also show you new and deleted cue parts in its cue list.
If you want to track moving lights manually as you're making a show (by choice or because you're not using one of the compatible consoles) you can - FocusTrack's
QuickFocus
function makes it easy to do this while creating cues.
The whole process is painless and much more accurate than trawling through a showfile in the off-line editor manually listing used focus positions.