FocusTrack 1.308
FocusTrack 1.300, released August 10th 2007, includes preset and postset position detection, FocusFinder tools for rationalising focuses, Cue Summary for seeing how lights are used in cues, a fixture library and much, much more. FocusTrack 1.308, released October 29th 2007, fixes some minor bugs and adds a few things....
The new Eos version of FocusTrack will be available here soon.....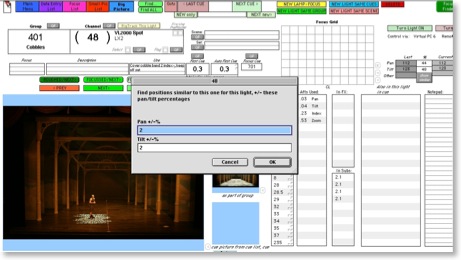 ---
In FocusTrack



• Can detect preset and postset only positions - positions that are never used 'on', but are used as presets for lights fading in or postsets for lights fading down with live moves.

• Live moves shown in position use cuelist in Big Picture displays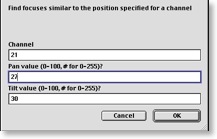 • FocusFinder: enter the pan/tilt values for a light to find whether you already have matching (or similar) preset positions for that light.

• Show similar: for a focus for a light, see whether there are other focuses that are similar (allowing focuses to be rationalised for tours).

• Inverted display available in more places for low-light operation.





• Ad-hoc selections of focuses can be stored for quick retrieval.

• Special sorting options - find by pan/tilt order (so that lights move as little as possible while focus plotting) and others.

• More show information added - now you can record the Associate LD's name!

• More printing options.

---
In CueList


• Expanded cue list display for lighting designers, with space for scene number, page number and additional cue notes.

• Performance improvements when showing/hiding parts.

• In 1.308: New Utility for listing preset positions that contain identical pan/tilt values for the same light, to assist with show rationalisation and tidying up.


In RigTrack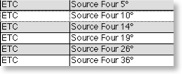 • Fixture library to speed up rig data entry; library can be customised or expanded. Compound fixtures of lights plus accessories (scrollers, top hats) can be created when required.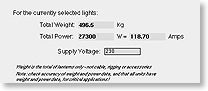 • Weight and power totals




• Traditional focus charts (with or without pictures) for conventional lights.

• Show Conventional, Show Moving Light, Show Arc, Show Dimmable buttons to quickly see parts of the rig

• Ad-hoc selections of lights can be stored

• Import rig data from VectorWorks Spotlight as well as Lightwright and other sources. Can also export data to Lightwright, .CSV and other file types.





• Tools for managing changes to rigs, storing old channel number, unit number, position, type and more. Highlight changed button toggles highlighting of units that have been changed.




• Cue Summary: cue by cue view showing light use (conventional use, moving light position, colour and gobo) with level, position, colour or beam changes flagged. 'Always on' lights, such as worklights, can be omitted.

• Cue Summary can show entire cue state or just changes.





• Channel track view for quickly seeing one light's use through a show.

• Lights unused in the show automatically flagged (with an over-ride for lights you know are used manually).

• Increase or decrease unit number tools for making rapid changes when adding or removing lights from positions.

• Photo Shoot Loop mode as in FocusTrack, for speeding up focus plotting conventional lights.

• Dipswitch display for DMX addresses.

• In 1.306: New FocusZone field, allowing you to split up your rig into working areas (FOH, SL, SR etc).

• In 1.306: Improved support for conventional focus drawings.

• In 1.306: More print options, including multiple light-per-page and single light-per-page conventional focus plots plus binder covers and spines.
---
You can see what changed in earlier versions of FocusTrack
here
.
Or why not
try it for yourself?