You Work Hard To Make Your Show Look Great...

FocusTrack
Helps Keep It Looking Great

(automatically, with Eos, grandMA1/2 or Strand consoles;
and for the whole rig, not just the moving lights)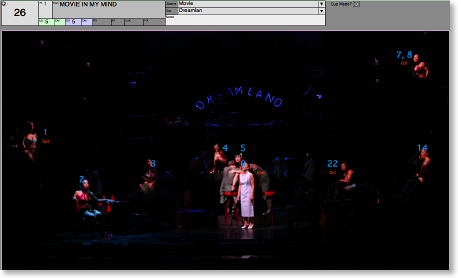 Lighting is ephemeral. It's easy for that perfect moment to be lost. If you don't want that to happen, you need to document it, precisely.
But show lighting is complicated. Twenty moving lights, twenty positions each. That's 400 positions to keep track of, even before you start worrying about which gobos you've used. Or which colours. And then there's the whole conventional rig....
FocusTrack
makes documenting everything easy. By making it automatic.
From your showfile, it figures out
how your show is made
- which lights are used when, in which positions, colours or gobos. No more trawling through the showfile manually making lists.
It lets you
document your focus
- moving lights and conventionals - precisely, accurately and in record time, controlling the console and your digital camera to bring up each light then
take a picture
.
It gives you an accurate
cue list
from the console - no more cross-checking against your spreadsheet - with space to add detailed notes and cue photos.
It gets the
rig information
from the console, including the correct final patch, merging it with any information you've added by hand or from other sources.
It helps
manage the rig
from day to day, keeping maintenance logs or letting you know when it's time to change the moving light lamps.
It makes it easy to rationalise the rig for next time, showing you colours, gobos or even whole lights that never got used. It can even work out how much
power your show really uses
, so you can specify what you actually need on the road.
It lets you get everything back
exactly how it was
as you swap out lights, mount new productions or go on tour.
It keeps all of the information about your show lighting -
the rig
and how it's used - together in one place.
It's perfect for plays, musicals, touring shows, rep houses, opera, dance, architectural lighting, film. Anywhere that you want to keep lighting looking exactly the same. Just like
these people do
.
If you care about keeping your show looking good, it's perfect for you. Why not
try it for yourself
?
Take a look at what FocusTrack can do »