Maintaining The Rig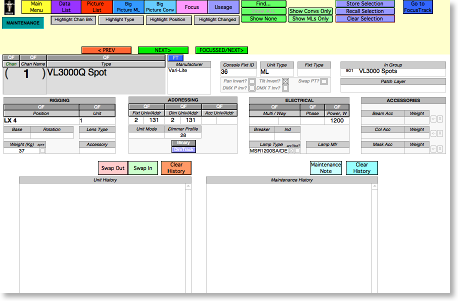 Lighting rigs are dynamic things, needing love and attention. FocusTrack helps manage that process.
RigTrack understands that a light is a real device rather than just a channel. Tell it a moving light's serial number and it can track it as you take it down, fix it and put it back up somewhere else in the rig. RigTrack can keep a maintenance log for each fixture so you can build up a service history, making it easy to spot repeating problems that might indicate more deeply-rooted issues with a particular light.
RigTrack can also help manage the complex task of maximising the lamp-life from moving lights. Define the number of hours you burn your lights on matinee days or single show days. Each day, tell RigTrack what kind of day it's been. In time, a message will pop up on the RigTrack main screen telling you that it's time to change your lamps....