Paperwork, Paperwork, Paperwork...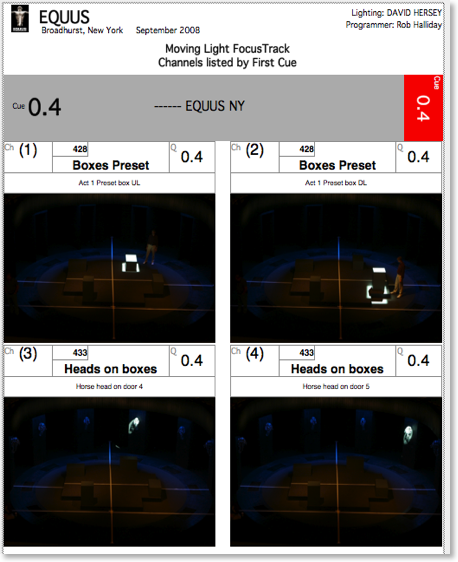 FocusTrack helps generate the most precise show bibles ever, with every focus - conventional and moving light - having as much detail as you can provide - a grid focus, a written description, a purpose, a photograph and even a scanned focus sketch. RigTrack can hold every detail about the rig as well - plugging, colour, gobos, more.
The eco-friendly way to leave this information is to give the crew their own copy of FocusTrack. That way they can search, sort and even update information - or take advantage of RigTrack's lamp maintenance log and lamp life management tools.
Alternatively, you can print information in a huge variety of formats, either to paper or as electronic PDFs. Both FocusTrack and RigTrack can print lists views showing some, a few or one light per page with progressively more information available. Cue List can print cuesheets and also a cue-by-cue grid showing what each light is doing in each cue.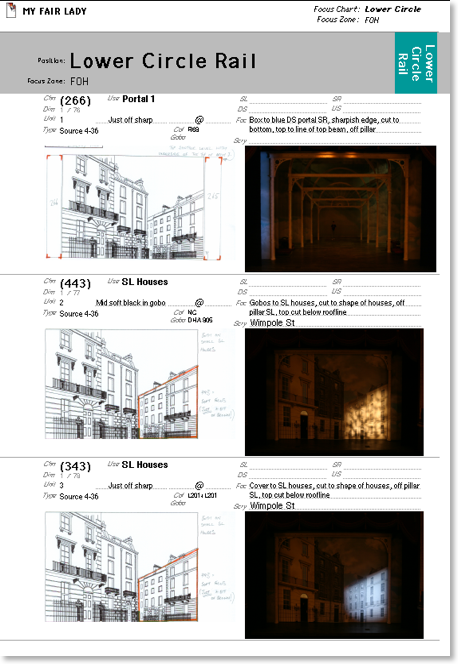 Whichever format you choose, FocusTrack can even print the niceties - binder covers, binder spines, CD labels, CD covers.