Import Options

FocusTrack can currently import showfiles from Strand consoles once they have been processed using Strand's Showport utility, and files exported from ETC Eos and MA grandMA consoles. When a file is imported, FocusTrack will figure out which lights are used (ie. actually come on) in which preset focus groups in which cues during the show. If you re-import a newer version of the same show, FocusTrack can also figure out what's changed between the two showfiles - which focus positions have been altered, which cues have been added, which have been deleted and so on.
FocusTrack has a number of import options that alter the way a showfile is imported, with slightly different options available for each console type:
Min Intensity:
This is the minimum intensity that FocusTrack counts as 'on' For example, you may use 5% as a pre-heat level for lights. If you don't want the cue where the light comes to 5% to count as 'on', set the Min Intensity to 6%.
Start Cue / End Cue:
You can specify a cue range for FocusTrack to process. This means that you can exclude rig check cues or other older or temporary cues stored in the showfile.
Ignore Hard Values:
'Hard' values are attributes set to particular levels rather than to preset focus groups - so if a light was set to position pan 27, tilt 54 that is a hard value for pan/tilt. Normally FocusTrack will import these values and show them as positions in brackets - (27, 54). You can choose to have FocusTrack ignore and not show hard values by ticking this box.
Process Pan/Tilt Only:
FocusTrack normally processes all attributes for lights. With this information it can show you how a light is set in a particular cue (in red, in star gobo) as well as it's position; it also lets you use RigTrack to list the gobos, colours and so on that a light uses during a show.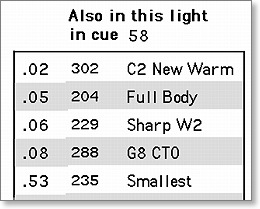 If you don't need this functionality you can tell FocusTrack to only process pan/tilt information, which will speed up the import process, particularly on older, slower computers.
Delete outdated Attributes:
Strand showfiles still contain information about some attributes that are no longer used - for example, the old .57/.59 attributes that used to be used for fine pan/tilt. Ticking this box will delete this outdated information from FocusTrack and stop it cluttering up your screen.
Import Console Patch:
FocusTrack can import the patch from the console into RigTrack, giving you an up-to-date record of the current show patch (including details such as pan/tilt inversion on moving lights). This import will 'merge' with an existing RigTrack (preserving any other information you might have added about the rig or imported from programs such as Lightwright) but will replace the current patch data in RigTrack.
Once you've chosen your options hit MAKE/UPDATE FOCUSTRACK to import the showfile. The first time you do this for a new show, make sure you clear FocusTrack. Once you've done that you can keep re-importing updated versions of the showfile, with FocusTrack updating the show information (and flagging new, changed or cut focuses) as appropriate.