Paperwork To Go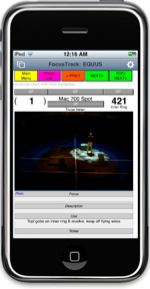 You know all those times you've been up a lift fixing a light, and just wish you had the focus paperwork with you so you could focus it back to the right place?
You know all those times you've got arm-ache from carrying a binder full of focus plots around the stage?
No more...
Now you can have paperwork to go - without the paper - by teaming FocusTrack up with your iPad, iPhone or iPod Touch.
What You Need
To make this work, you need the latest version of FocusTrack (2.200 or later).
You also need to purchase FileMaker Go for
iPhone
,
iPod Touch
or
iPad
. This is very reasonably priced, and will let you run any FocusTrack, any
SpotTrack
, or, come to that, any other FileMaker Pro file on your mobile device. You can buy this from the App Store (there's one version for the iPhone/iPod Touch, one for the iPad).
You'll need iOS4 running on your iPhone or iPod Touch.
Paperwork To Go
Open your FocusTrack folder and you will find a selection of files. The ones you'll want to move to your i-device are probably:
FocusTrack.ftr - all of your FocusTrack information
RigTrack.ftr - all of your RigTrack information
Cue List.ftr - your cue information
Before moving them onto the i-device, there are a couple of things you should do:
1. Traditionally, any pictures you add to FocusTrack or RigTrack have lived in the 'Focus Pics' folder, and any pictures you add to Cue List have lived in the 'Cie Pics' folder. FocusTrack has then just referenced the pictures. This has stopped the FocusTrack files becoming enormous, but has also meant you've needed to keep the pictures in your FocusTrack folder. This doesn't work with the i-devices because there is no easy way of moving the pictures onto the i-device. Instead, there's a new option in FocusTrack: in any of the picture import screens you'll see a new checkbox, 'Embed Pics'.

If this is checked, photos will be stored within the FocusTrack databases. This means you can then get rid of the original image files you want to (though you probably shouldn't...), but more importantly means you can move one file onto your i-device and all your pictures go too. If you've already imported pictures, check this box then hit the 'Import Photos' button again.
2. Make sure you QUIT FocusTrack before moving the files.
Making The Move

1. Connect your i-device to your computer and run iTunes (if it doesn't run automatically).
2. Wait for it to finish syncing, if that happens automatically.
3. In iTunes, select your device from the list on the left.
4. Select 'Apps'.
5. Scroll down and you'll find a section called 'File Sharing'.
6. Select 'FileMaker Go'.
7. In the 'Documents' section, click 'Add...'. Pick the files you want to upload, then press 'Sync'.
8. iTunes will push the files onto your iPad.
Opening The Files

1. Run FileMaker Go. Note that if FileMaker Go was active when you uploaded your files you may have to switch to the home screen then re-select FileMaker Go to see your files.
2. Open the 'Files on Device' list.
3. Open one or more of the files you've uploaded. Once you have them open, you'll find a FocusTrack interface that is, hopefully, familiar! You can switch between files by clicking on the icon top-left then swiping left or right to the other files.
Getting The Files Back

1. 'Close All' files on the i-device.
2. Connect to your computer and run iTunes.
3. Select the device, select 'Apps', scroll down to file sharing, pick 'FileMaker Go', pick the files you want.
4. Click on 'Save to...' and pick where you want to save the files.
You could save these files over the top of the original files on your computer. Ideally, though KEEP A COPY of your original files just in case. And make sure FocusTrack is quit before moving new files into the FocusTrack folder.
Very Important Note!

At the moment there is no syncing or merging of data between your computer and your i-device. You can manage this most simply by only having the files open in one place (on your computer, on your i-device) at once. Work on your computer. Move to your iPad. Work there while on-stage, updating information or taking notes. Move back onto your computer, over-writing the original files there (though you may want to make a backup copy of these, just in case).
You can have the files open in both places at once, but if you do this you need to decide which one you're making changes on. Make changes on both at the same time and things could get messy. At least, for now.
Feedback Wanted

This is a first pass at this. If you use it, we'd love to hear what you think - whether it's useful, how we could make it more useful.... Send us an
email
and let us know!