A Year of Show Documentation -
with FocusTrack and SpotTrack
Production lighting and followspot documentation systems in use worldwide
5th January 2011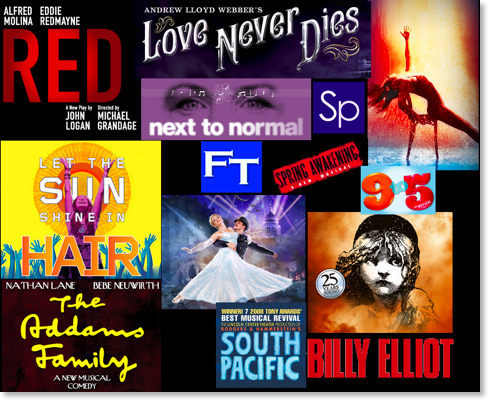 FocusTrack
, the production lighting documentation system, and its sister software
SpotTrack
, for documenting followspot cues, both enjoyed an enormously succesful 2010, helping to transfer existing shows to new productions and documenting many new shows for their successful runs and future productions.
In New York, FocusTrack provided show lighting documentation for
Neil Austin's
Tony Award and Drama Desk award-winning lighting for
Red
and his Tony-award and Drama desk nominated lighting for
Hamlet
, as well as for Natasha Katz's Drama Desk award nominated design for
The Addams Family
. FocusTrack is currently assisting with a number of productions moving to a life beyond Broadway - the transfer of
Donald Holder's
lighting of
Come Fly Away
to Las Vegas, and the US tours featuring
Kevin Adams'
designs for
Hair
,
Next to Normal
and
Spring Awakening
- as well as for the US tours of
Nine to Five
, designed by
Ken Billington
, and
South Pacific
, designed by Don Holder.
FocusTrack is also being used by both US tours of
Billy Elliot
, lit by
Rick Fisher
, having been used to document the New York and original London productions of the show, and by the new US tour of
Les Miserables
, lit by
Paule Constable
, having been used to document the UK tour of the same production. Constable and her team also used FocusTrack to document
Love Never Dies
, the sequel to
The Phantom of the Opera
, in London, and FocusTrack is also touring the UK with
We Will Rock You
, lit by
Willie Williams
, and Matthew Bourne's new production of
Cinderella
, lit by
Neil Austin
.
Les Mis
,
Love Never Dies
,
Next to Normal
,
Cinderella
,
Billy Elliot
and
Hair
as well as the London productions of
Legally Blonde
,
Flashdance
and
Oliver!
are also using SpotTrack to manage their followspot cue sheets, raising money for the lighting charities
Light Relief
and the Esta Foundation's
Behind The Scenes
at the same time.
Though often used on large scale musical productions, neither FocusTrack nor SpotTrack are by any means limited to that kind of show. During 2010 FocusTrack helped document
Roadkill
, lit by Paul Sorley at the Edinburgh Festival Fringe, and also generated paperwork that allowed lighting designer Johanna Town to efficiently re-create her lighting for
Haunted
as it transferred from Manchester to New York - this using a newly-created Cue Summary Printout function. SpotTrack has been found everywhere from London's Regent's Park Open Air Theatre to the Freud Playhouse in Los Angeles to the Porthouse Theatre in Cleveland.
FocusTrack is also invaluable for theatres playing multiple shows in rep, the system currently in use by both the
National Theatre
and
English National Opera
in London to document the lighting for their productions.
"FocusTrack and SpotTrack have proven their use to a whole range of lighting people on a whole range of productions during 2010," comments Rob Halliday, the software's creator, "and we enjoyed the chance to introduce more people to what they could do at our New York open morning in September. We hope to be able to offer even more useful tools during 2011, with SpotTrack joining FocusTrack in running on the iPad or iPhone and both programs adding new functions, and maybe even support for new lighting consoles alongisde Strand, Eos and grandMA 1!"
Further information about FocusTrack can be found elsewhere on this website, about SpotTrack at
www.SpotTrack.co.uk
. Both programs can be downloaded and run in trial mode for Mac or PC.