More New Shows Choose FocusTrack
New shows in London, New York and Chicago join main others in using FocusTrack to document their show lighting
20th April 2010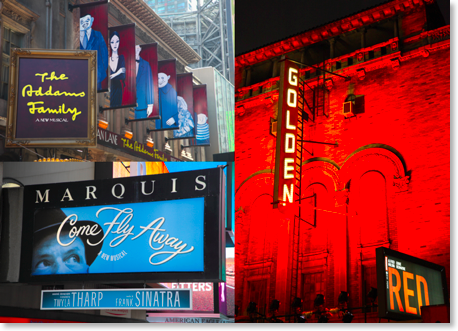 The spring season has seen a number of high profile new plays and musicals choose to use FocusTrack to give them a complete, accurate record of their show lighting, ideal for maintaining the show over a long run, transferring it to a new venue or taking it on tour.
In New York, the these shows include the musicals
Come Fly Away
and
The Addams Family
and the play
Red
.
Come Fly Away
, the Twyla Tharp show based around the music of Frank Sinatra lit by Donald Holder took the showfile from their grandMA console into FocusTrack to work out which focuses were used by which lights in the show. The lighting team, including associate lighting designer Jeanne Koenig, assistant Caroline Chao, programmer Joseph Allegro and head electrician Brad Robertston then used FocusTrack to control the console to bring each light on in each position in turn to take a photograph, which was then incorporated into the show's FocusTrack.
The Addams Family
, lit by Natasha Katz and programmed by Aland Henderson, used FocusTrack to generate lists of used focuses, which were then used to photograph each light in each focus in the correct scenic setup by the team of Production Electrician Michael Pitzer, Mike Hyman manning the PRG V676 console, assistant lighting designer Joel Shier and moving light tracker Alec Thorne. Natasha Katz received a Drama Desk nomination for her work on the show.
Meanwhile at
Red
, lit by Neil Austin, FocusTrack was used to record the focuses of each unit in the entirely conventional rig during the show's London run at the Donmar Warehouse; this gave a solid record from which Austin and US associate Pamela Kupper could create the New York lighting, adapted to the revised set design required by a larger theatre. FocusTrack was then used to precisely record the focus of the New York rig, wirelessly controlling the Strand 500-series console to turn on each light in turn to leave production electrician Jon Lawson with a comprehensive focus bible. For his work on the show, Neil Austin has received both Drama Desk and Tony Award nominations – with further nominations for
Hamlet
,
which he lit last year in London and New York and which also made use of FocusTrack.
In London, FocusTrack was used to document the lighting for
Love Never Dies
, the long-awaited sequel to Andrew Lloyd Webber's
Phantom of the Opera
, with lighting by Paule Constable. Constable's team, including programmer Nick Simmons and associate lighting designer Beky Stoddart used FocusTrack to take the ETC Eos showfile and work out which focuses were used where in the show. The same team have also used FocusTrack on the new touring production of
Les MisÚrables
.
Meanwhile in Chicago, FocusTrack continued its long association with the hit musical
Billy Elliot
, which has been using FocusTrack since the show made its debut in London in 2005. For this new touring production, FocusTrack proved invaluable in re-creating Rick Fisher's Tony-award winning design and adapting it for the road. Notes the show's head electrician Kevin Barry, "on this tour, we changed the lighting console, the programmer, and even added more moving lights. FocusTrack allowed us to keep track of it all and keep the design true to the Broadway original. It is an indispensible tool that allowed me to keep every focus on target. Anything else is just not complete."
Once the new production was complete, FocusTrack was then used by associate lighting designer Dan Walker, assistant Kristina Kloss, programmer Marc Polimeni and production electrician Jimmy Maloney's team of Kevin Barry and Ron Schwier to precisely document the lighting, controlling the Eos console and a digital camera to simplify and speed up the process of photographing each focus.
These new shows join the many others already using FocusTrack – these including
Les MisÚrables
,
We Will Rock You
,
Mary Poppins
,
South Pacific
and Cirque du Soleil's
Zaia
.
Billy Elliot
and
Love Never Dies
are also using
SpotTrack
, FocusTrack's companion software for producing followspot cuesheets.
Evolving constantly in response to user suggestions and feedback, FocusTrack version 2.120 includes
QuickFocus
for those needing to document moving light focuses as they create it and
PowerTrack
for calculating the power requirement either cue by cue or for the overall show. It can process show data from ETC Eos/Ion, MA grandMA and Strand 300/500-series consoles. Available now for Mac or PC, it can be purchased or downloaded and run in demo mode from
here
.