Tracking Miss Saigon Around The World
FocusTrack ensures that the look of this classic musical remains the same as it travels the world
5th November 2007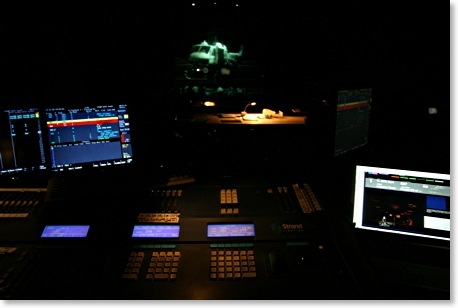 Since the new, smaller-scale 'Tam' tour of the legendary Cameron Mackintosh musical
Miss Saigon
opened at the UK's Theatre Royal Plymouth in mid-2004, it has played countless venues throughout the UK, one in Portugal, four in Korea, one in South America and three in Australia. Through all of that, one tool has been the key to keeping the lighting on top form: FocusTrack.
Designed for exactly this type of situation, where a show has to be maintained across long runs, through touring venues, or even across countries or continents, FocusTrack is a system for precisely documenting the lighting of entertainment productions, in order to allow it to be accurately maintained or re-created.
For
Miss Saigon
, that means managing information about a rig of around seventy moving lights (VL2000s, VL3000s, Revolutions, Digital Light Curtains, Alpha Halo Washlights), one hundred or so dimmers, colour scrollers, a Catalyst media server and more. Designed by Jenny Kagan and David Hersey, the show was programmed by Rob Halliday on a Strand 500-series console; the show data from the console was imported into FocusTrack to automatically generate a complete record of which focus positions were used by which lights in which cues. FocusTrack was then used to control the console while photographs were taken to document the position of each light in each preset focus - a total of around 1145 photographs, or an average of around sixteen positions per light during the show, with FocusTrack allowing all of these positions to be photographed in just a few hours.
The lighting for the Korean, South American and Australian productions is now overseen by Richard Pacholski and his team including programmer Hugh Hamilton and production electrician Paul Mulcahy. FocusTrack ensures that information about the focus of the rig and the look of cues is available as new teams of people take over the running of the show. It also gives the team a record of how the lighting is meant to look even when the rig has to undergo quite drastic changes. "For the Sao Paulo production, still playing at the Teatro Abril, we had to use Mac2000 Washes in place of VL3000Q Washes and VL2500 Spots instead of VL2000 Spots," Pacholski notes, "but having a record of what things were meant to look like enabled us to focus the new lights and get the show looking right again in just one day."
For the show's current Australian tour, now in Sydney having played Melbourne and Brisbane, and with Adelaide and Perth still to come, Pacholski notes that "we are 1000km and six days show to show. We get about seven hours to do 1200 moving light focuses; that's something that we can only manage with FocusTrack."
Proving increasingly popular with those running on theatrical productions, FocusTrack can be found on a number of high-profile shows around the world, including
Billy Elliot
in London and soon to open in Sydney,
Mary Poppins
,
Les MisÚrables
and
Rock 'n' Roll
in New York,
My Fair Lady
on tour around the US, and many more. The software continues to expand its functionality, with version 1.308, out now, offering a new tool for quickly identifying position palettes containing identical pan/tilt values, allowing showfiles to be rationalised for touring or ease of maintenance. The software can be used to manually track shows, or can import and process showfiles from Strand 500-series console and - soon - the ETC Eos.
Further information about
Miss Saigon
can be found
here
. Further information about FocusTrack, including a downloadable demo version, can be elsewhere on this website.