One Show More: Les Mis Returns To Broadway - With FocusTrack
Lighting tracking software helps bring Les Miserables back to New York
8th November 2006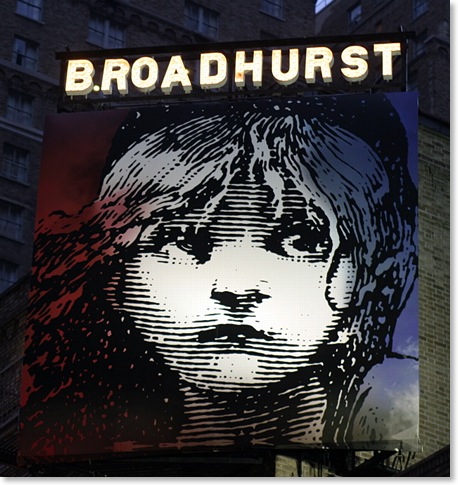 FocusTrack, the database system for tracking and documenting the use of lighting for theatrical productions, is helping the smash-hit musical
Les MisÚrables
return to Broadway - just three years after the show ended its triumphant, sixteen-year first New York run.
The new production marks the first time that automated lighting has been used to light the show in the US (with the exception of moving light curtains, which have always been part of the show's design). Lighting designer David Hersey started using moving lights as part of the rig for the 1997 UK tour of the show, and that rig has since been used on productions around the world. When the London production of the show moved theatres in 2004 the rig was revised to use Vari-Lite VL2000 Spots, VL2000 Wash and VL3000Q Spot units alongside DHA Digital Light Curtains.
For the New York production, Hersey and his associate lighting designer Ted Mather have revised and expanded the London rig, switching to VL2500 units. The New York production was based on the London lighting, with the information about the moving light focus being carried from London to New York by FocusTrack. FocusTrack is also being used to track the changes to the show and will also be used to document the final version of the new New York production.
Working with Mather on the revival of the show are production electrician Robert Fehribach, head electrician Michael Pitzer, production manager Jake Bell, programmer Alan Boyd working from Rob Halliday's original show programming and assistant Mark Simpson. Tracking the show was Amith Chandrashaker using an Apple MacBook Pro laptop; because of this, the show is using a beta of the Universal Binary version of FocusTrack, able to run natively on both Intel- and PowerPC Macintoshes. This version of FocusTrack will be released shortly. FocusTrack was supplied to the production by New York based computer supplier Robert Hale Production Services.
Les Miserables is one of many shows to use FocusTrack this autumn, with other productions including
Porgy and Bess
(lighting by David Hersey),
Evita
(lighting by Paule Constable),
Frost/Nixon
(lighting by Neil Austin) and
Daddy Cool
(lighting by Rob Halliday) in the West End,
Guys and Dolls
(lighting by Howard Harrison) on tour in the UK,
Miss Saigon
(lighting by David Hersey and Jenny Kagan) in Korea and
Aida
(lighting by Charlie Morrison) and
Edward Scissorhands
(lighting by Howard Harrison) touring the USA.
Further information about
Les MisÚrables
, produced by Cameron Mackintosh and now previewing at the Broadhurst Theatre, can be found at
www.lesmis.com
. Further information about FocusTrack, including details of what it can do and how it can be useful, can be found elsewhere on this website.