FocusTrack: Version 1.300 Available Now
Lighting documentation software adds a host of new features
14th August 2007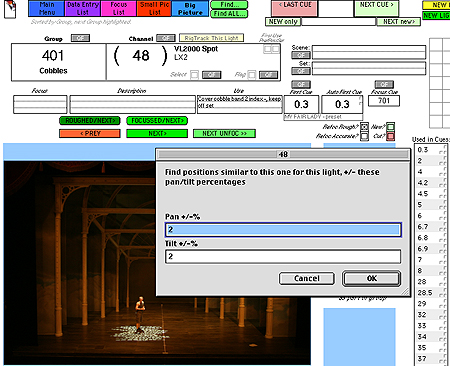 FocusTrack, the production lighting documentation software, is now available in a new version - version 1.300, released on August 10th.
The new version adds a multitude of new features, many requested by lighting designers and programmers who are already using FocusTrack to document the lighting of their shows.
Leading the list of new features in FocusTrack is the ability to detect preset- and postset-only positions when importing a showfile; these are positions never used on their own but to set up the live movement of lights as they are fading in or fading out, meaning that their documentation is important to the overall look of the show.
FocusTrack also adds new 'FocusFinder' functionality: this means that as a new position is created at the console, FocusTrack can detect whether identical or similar preset focus positions have been created for that light. Alternatively, FocusTrack can list focus positions that are very similar to each other for particular lights, allowing the number of focuses to be rationalised where required - for example, when preparing a fast-moving tour of a show where focus time will be limited.
RigTrack, the rig management module within FocusTrack, has seen many new additions to its functionality. A user-editable Fixture Library will reduce data entry time when creating lighting rigs manually; 'combi-fixtures' of lights with accessories can also be created to speed entry further. RigTrack can now also generate weight and power totals, can quickly show different subsets of a rig (conventional or moving lights, tungsten or arc sources), and can import rig data from VectorWorks Spotlight as well as from Lightwright and other sources.
RigTrack has also gained new tools for examining how rigs are used, including the ability to flag unused channels, a track-sheet view for following a light's use through a show, and a Cue Summary view for examining complete cue states and changes from cue to cue, with a light's function show as either its conventional focus note or its moving light position group. Electricians will appreciate new tools for quickly shifting unit numbers as lights are added or removed, and a dipswitch display for DMX addresses.
FocusTrack 1.300 is the third major version of FocusTrack since its launch in 2005. In that time, the product has been put to use on a wide variety of shows, currently including Billy Elliot, Mary Poppins and Footloose in London, Mary Poppins, Les MisÚrables and Frost/Nixon in New York, Miss Saigon on tour around the world, and with English National Opera, Glyndebourne Opera and the Linbury Studio at the Royal Opera House.
FocusTrack can be downloaded from
here
; the download version includes a 'mini-show' and will operate in Demo Mode for fourteen days, allowing those interested to experiment with real show information as quickly as possible.