On The Fringe With FocusTrack: Not Just For Big Shows
FocusTrack documents Roadkill, one of the hits of this year's Edinburgh Fringe
1st September 2010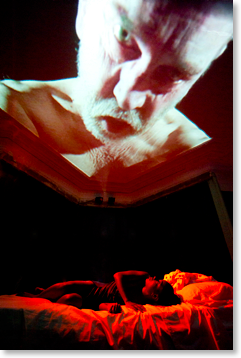 FocusTrack, the production lighting documentation system, is already in use on some of the biggest theatre shows in the world - but it is by no means limited to huge shows, as shown by its recent use to document
Roadkill
, one of the hit shows at this year's Edinburgh Festival Fringe.
This harrowing play, directed by Cora Bissett and designed by Jessica Brettle, featured 'evocative mood lighting' designed by Paul Sorley that set the uncompromising tone of the production. Given top ratings in every review, it was decided to document the show lighting precisely both to maintain it during its Edinburgh run and in case the show gained a future life beyond the festival.
Taking charge of this process was James Gardner, who has been using FocusTrack for some time in his work as a production re-lighter in Scotland. He explains his use of the system: "My experience is that I used to spend hours documenting even small shows like this, particularly where decent off-line editors aren't available. FocusTrack makes the process extremely easy, and I now have so much more information at my fingertips than I ever had before."
"I think there are a lot of smaller scale shows and companies that probably think FocusTrack is too big and complicated for them," he adds - "but my experience is that it is actually very adaptable to large and small shows and very good at dealing with as much or as little information as you have time to enter into it."
FocusTrack assists with the process of documenting lighting by grabbing information (used channels, colours, gobos, focus position, patch and cues) automatically from Eos, grandMA and Strand console showfiles, and importing information from other sources such as Lightwright or Excel if available. FocusTrack then allows users to document conventional and moving light focuses either manually or by controlling the console and a digital camera to speed up the process. Checking positions or uses, whether swapping out a single light, re-focusing an entire rig on tour, or rationalising a rig design for future productions is then incredibly simple.
Further information about FocusTrack and the many shows already using it - from
Roadkill
to
Love Never Dies
in London and
Billy Elliot
across America - can be found elsewhere on this website.
Photo by Tim Morozzo